Hairstyles for Rustic Weddings: Embracing a Relaxed Vibe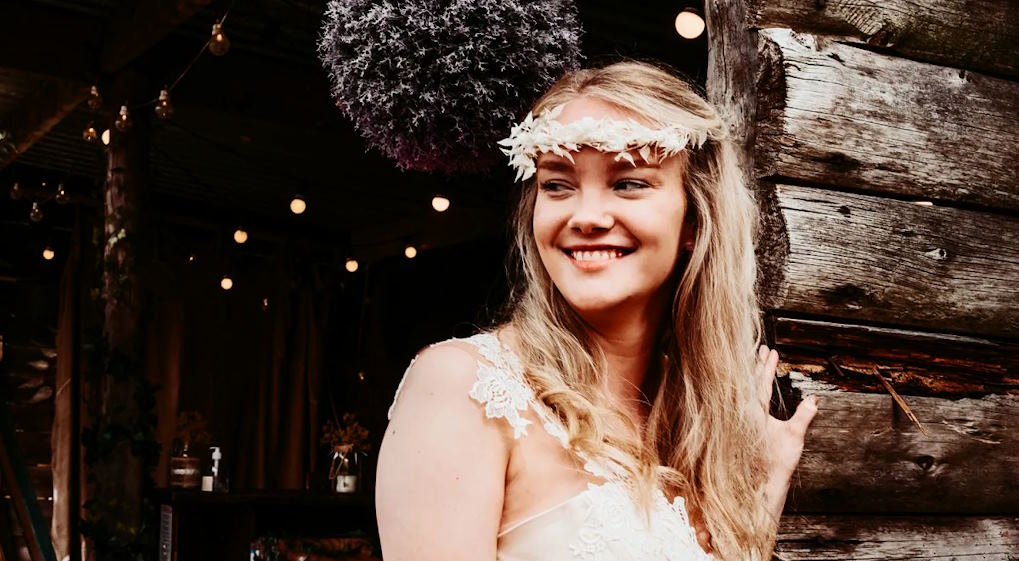 Rustic weddings exude a charming and enchanting ambiance, celebrating the beauty of nature and the simplicity of love. From the scenic countryside venues to the warm, earthy tones, every detail comes together to create a relaxed and intimate atmosphere. Amidst this rustic charm, hairstyles play a pivotal role in complementing the overall theme and enhancing the bride's natural beauty. Embracing a relaxed vibe, rustic wedding hairstyles effortlessly blend elegance and simplicity.
Incorporating Natural Elements into Hairstyles
Flower crowns and floral accents:
When it comes to rustic weddings, flower crowns and floral accents are the epitome of natural beauty and bohemian charm. To achieve a rustic feel, it's important to choose the right flowers for your crown. Opt for blooms with a wild and unstructured appearance such as daisies, baby's breath, lavender, or sunflowers. These flowers evoke a sense of simplicity and add a touch of rustic elegance to your hairstyle.
Once you have selected the flowers, it's time to consider the placement and styles of flower crowns. For a more traditional look, wear the crown as a halo, encircling your head. This style works beautifully with loose waves or half-up, half-down hairstyles. Alternatively, you can create a smaller floral accent by placing a few flowers strategically in your hair. Tuck them behind your ear or incorporate them into a braid for a subtle yet stunning touch.
Incorporating greenery and foliage:
Greenery and foliage are excellent choices for incorporating natural elements into rustic wedding hairstyles. One way to wear greenery is as hair accessories. Opt for delicate sprigs of eucalyptus, ivy, or ferns and position them throughout your hairstyle. You can secure them with bobby pins or intertwine them into braids or updos for a whimsical and earthy look.
Another option is to braid and intertwine foliage into your hairstyle. Create small braids and weave strands of greenery or foliage into them for a natural and rustic effect. This works particularly well with loose, textured hairstyles or boho-inspired updos. The addition of greenery not only adds a touch of freshness but also perfectly complements the rustic charm of your wedding.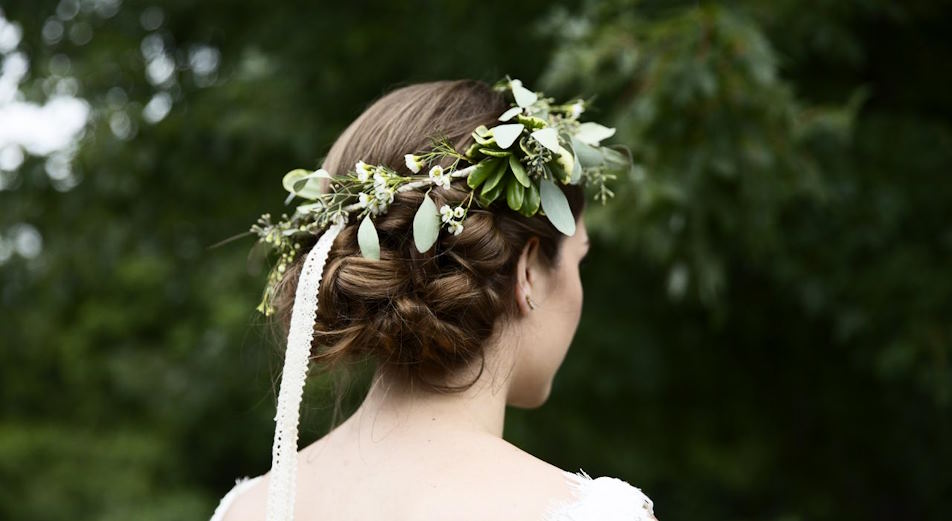 Embracing the Natural Texture
Beachy waves for a carefree vibe:
For brides who want to embrace a carefree and effortless vibe, beachy waves are the perfect choice. This hairstyle effortlessly captures the essence of sun-kissed locks and adds a touch of romance to your rustic wedding look. To achieve beachy waves, start by applying a salt spray or texturizing product to damp hair. These products help create texture and enhance the natural waves in your hair. Scrunch your hair gently while blow-drying or use a diffuser attachment to enhance the wave pattern.
To take your beachy waves to the next level, consider adding small braids or twists. Incorporate a few thin braids or twists throughout your hair for a boho-inspired touch. These braids can be strategically placed to frame your face or intertwined into the waves for added texture and visual interest. The combination of beachy waves and delicate braids or twists will give you a relaxed and romantic hairstyle that perfectly complements the rustic ambiance of your wedding.
Curly and afro-textured hair:
If you have naturally curly or afro-textured hair, embracing your natural curls is a wonderful way to showcase your unique beauty on your wedding day. Minimal styling is key here to let your curls shine. Start by cleansing and moisturizing your hair with products specifically designed for curly or afro-textured hair. Once your hair is dry, use a wide-toothed comb or your fingers to gently separate and define your curls.
To enhance your natural curls for your rustic wedding, consider adding floral or metallic hair accessories. Adorn your curls with delicate flowers that match your wedding theme or opt for metallic hairpins or clips for a touch of elegance. These accessories not only add a romantic and whimsical element but also serve as stunning focal points amidst your beautiful curls.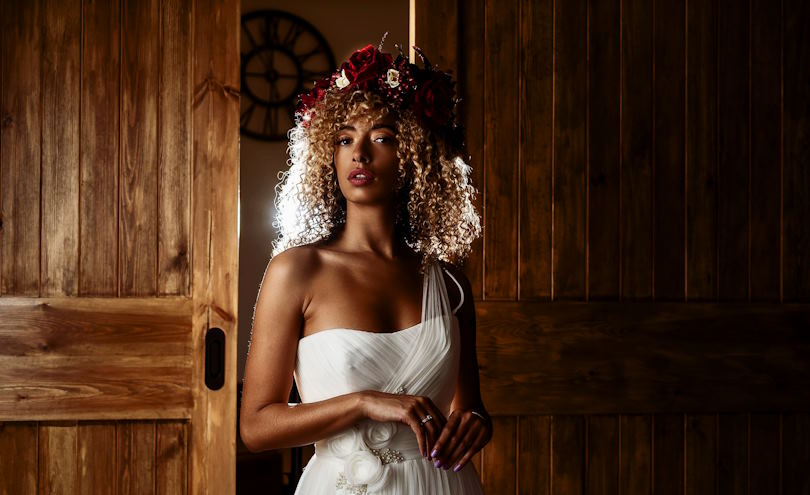 Hair Accessories for Rustic Weddings
Delicate hairpins and clips:
Hairpins and clips are wonderful accessories that can add a touch of elegance and charm to your rustic wedding hairstyle. When choosing hairpins and clips for a rustic theme, opt for dainty and nature-inspired designs. Look for pieces that incorporate elements such as leaves, flowers, or delicate branches. These designs will beautifully complement the natural surroundings and enhance the overall rustic vibe of your look.
When it comes to styling ideas for incorporating hairpins and clips, there are numerous options. For an ethereal and romantic feel, cluster a few small hairpins adorned with tiny flowers or pearls into a loose and textured updo. Alternatively, you can use a statement hair clip with a nature-inspired design to hold back a section of hair or secure a braid. These accessories not only add a touch of sophistication but also serve as beautiful accents that tie your hairstyle and wedding theme together.
Rustic headbands and tiaras:
For brides seeking a more prominent hair accessory, rustic headbands and tiaras are a perfect choice. Opt for headbands made of twigs, branches, or fabric with a rustic and earthy appeal. These headbands beautifully complement loose curls, braided hairstyles, or romantic half-up, half-down looks. They create a bohemian and whimsical feel, instantly elevating your rustic wedding hairstyle.
When selecting tiaras for a rustic theme, look for designs that incorporate rustic elements like pearls, feathers, or even small crystals. These tiaras add a touch of glamour while still maintaining the rustic charm. Consider wearing a tiara with a loose updo or a romantic braided hairstyle to create a striking and enchanting look.